History of Fowler Auto Group
The Fowler organization comprises a corporate office, auto detail and accessory shop, and nine automobile dealerships across Oklahoma and Colorado. With almost 800 employees operating franchises for Toyota, Honda, Volkswagen, Ford, Chevrolet, Chrysler, Dodge, Jeep, Ram, and now KIA. Fowler's success can be traced back to 1973 when purchasing the first auto dealership in downtown Norman, Oklahoma. Still, the legacy of Fowler began years before that with a boy named Billy. 
Born in Waxahachie, Texas, on February 22, 1931, Billy was one of three children born to Willie and Loraine Fowler. Growing up, Billy learned his work ethic young. At age ten, he worked beside his father in the cotton fields before his family moved to Corsicana, Texas, in 1942, after the invasion of Pearl Harbor. At age eleven, he secured a job at a local supermarket working from 4-8 pm after school and 7-10a on Saturdays. Billy had this job through high school, and it promised him a bright future. However, what Billy's employers saw in him would prove to be the very drive and determination that would keep pushing him forward to pursue more ambitious dreams. 
In 1957, Billy entered the car business as a salesperson in Dallas, Texas. Before long, he set his sights on owning his first dealership. His enthusiasm for a ripe and growing industry helped to establish Billy in the marketplace, and, in 1965, he moved his family to Oklahoma to take a sales management position. In 1973, Billy's dreams began taking shape. After securing a loan from his banker brother-in-law, and positioning himself as a Toyota Automobile Dealer, Billy purchased a Toyota dealership in downtown Norman. He operated the Toyota franchise in 4 locations before building its current site on Interstate 35 in July of 1981.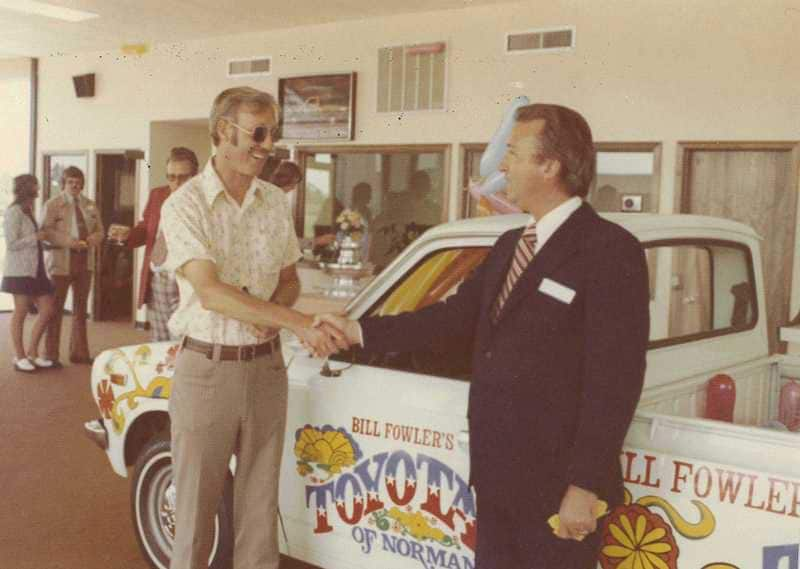 .  
            Over the years, Billy developed several business enterprises, which kept him very busy. As an active member and humanitarian, Billy had served on several boards and held many leadership roles in the community.  
Of Billy's three sons, Michael and David joined their father in the auto business. Later, son-in-law, Donald Griffin, would also enter the family business. Billy's son Michael joined the family business in 1973. Over the past 48 years, he has been instrumental in guiding the Fowler enterprise through the peaks and valleys of a growing company, establishing itself as a recognized industry leader.
The third generation of the family, Michael's son, Jonathan, currently serves as President of Fowler Holding Company. Before Jonathan's grandfather passed, Jonathan asked him what he wanted his legacy to be. Without hesitation, Billy said, "Jon, as long as you live your life with honesty and integrity and conduct your business the same way, I'll always be proud of you. That's all that matters." He went on to talk about how that was his wish for all of his family and his business as well - to carry on with honesty and integrity.